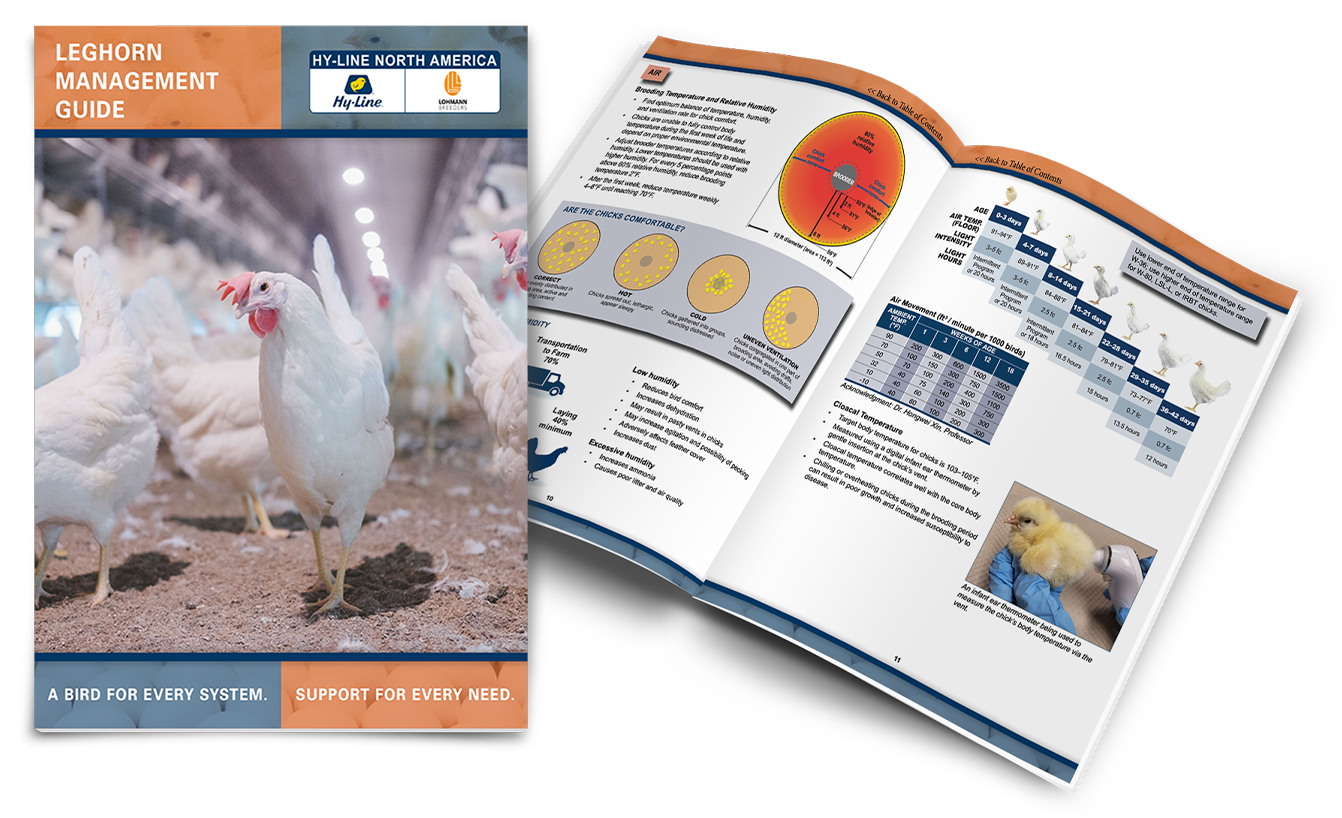 NEW LEGHORN CAGE-FREE MANAGEMENT GUIDE!
FOR W-36, W-80 AND LSL-LITE (Standards still in individual guides)
LINKS TO DOWNLOADS BELOW:

varieties of birds
OUR OPTIONS INCLUDE BOTH WHITE AND BROWN EGG LAYING VARIETIES FROM HY-LINE INTERNATIONAL AND LOHMANN BREEDERS.
NINE HATCHERIES
WITH NINE HATCHERIES ACROSS NORTH AMERICA, WE ARE ABLE TO MAKE DELIVERIES TO YOU IN A MORE TIMELY MANNER.
LOHMANN LSL-LITE
THE LOHMANN LSL – LITE'S EXCELLENT PERSISTENCY AND EARLY EGG SIZE LEAD TO MORE LARGE EGGS THAN ANY OTHER BIRD ON THE MARKET.
The LSL-Lite is a white egg layer that is well adapted to a wide range of housing styles.
She has high peak production, great persistency with consistent egg quality and excellent feed conversion. For these reasons, she is the right hen with the right egg for many markets and systems.
CAGE-FREE GUIDES / NO STANDARDS
PERFORMANCE DATA
LOHMANN BROWN-LITE
THE LOHMANN BROWN – LITE IS A BROWN LAYER WITH THE PERFECT BALANCE OF BEHAVIORAL CHARACTERISTICS IDEALLY SUITED FOR ANY CAGE-FREE ENVIRONMENT.
The Lohmann Brown – Lite is known for her high quality egg production to meet the needs of producers with various housing styles including pasture, free range, floor, aviary and conventional.
A competitive choice that is first-class with great persistency, shell stability, and nest acceptance. Her docile temperament and efficient production traits make her the first choice of many producers.
PERFORMANCE DATA
Performance Summary data is based on results obtained from customers around the world.
Please send your results to info@hyline.com.
An easy to use record-keeping program, Hy-Line International EggCel, can be found at www.hylineeggcel.com